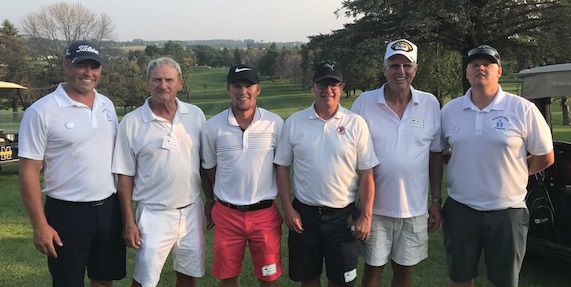 One hundred sixteen golfers participated in 18 holes of four-person scramble golf at the Viroqua Hills Golf Course Aug. 13, raising funds for projects and resident needs at Bethel Home and Services.
This year's event was extra special as it was dedicated to the late Dr. Robert Starr, a pillar of the community and the Bethel Home Golf Outing co-chair for 14 years.
The winning team was sponsored by the James P. Bigley Foundation and was made up of Dave McIntosh, Scott Mason, Zach Mason and Mick Rockweiler.
The team came in with a score of 46, using mulligans, string and a "best ball" style of play. Also, new this year, was an extra mulligan for anyone on the team who was delivered or had a family member delivered by Dr. Starr.
The winners of the second flight was the Bigley Foundation's second team made up of Dick Endicott, Jane Endicott, Carol Schreiber and Wayne Schreiber. Winners of the third flight were from Vernon Memorial Healthcare, made up of Kyle Bakkum, Dan Nelson, Mary Koenig and Lisa Turben.
The Viroqua United Methodist Church took home the traveling trophy, as they won the Church Challenge and will have $100 donated to the Bethel Butikk in the name of the congregation. UMC's team was made up of Tom Dobbe, Troy Dobbe, Corey Starr and Terry Tryggestad.
The event was blessed with perfect weather, a great turnout of golfers and spectators, and a gourmet meal to end the evening. Food was donated by Martin Brothers Distributing Company and prepared by Martin Brothers' chef and the Bethel Home Nutrition Services staff.
The 20th annual golf outing was co-chaired by Aaron Cade and Josh Ostrem.